Johnny Manziel aka Johnny Football has made history.  Tonight the electric Texas A&M QB became the first freshman to win the Heisman trophy.  Manziel's win was dominant – winning 5 out of the 6 voting regions and losing the Midwest to the runner-up Notre Dame linebacker Manti T'eo by only 3 points.  Video of announcement and Manziel speech below:
It has been a heady ride for the young man from Kerrville, Texas.  In the spring he seem destined for the role of backup.  In the summer an arrest for flashing a fake id to a police officer suggested that his days in College Station were numbered.  But he persevered, working on his game with a QB coach in California.  His improvement as a passer in fall practices and the realization by his coaches that this kid had "IT" got him the starting job.
Manziel showed flashes of his skills in an opening season loss to Florida.  As teams ganged up to stop the run he increasingly beat them with the pass.  To that he added his own particular brand of sandlot improvisation along with some darn good luck.  Video below.
Now a delighted (and relieved) Aggieland revels in its second Heisman trophy winner (the last 55 years ago) as the cherry on the icing of an unexpectedly successful inaugural season in the Southeastern Conference.  Manziel returns home to prepare for Oklahoma in the Cotton Bowl and the rest of his college career with a giant bulls eye on his back.  He will also get his own bill board on Broadway.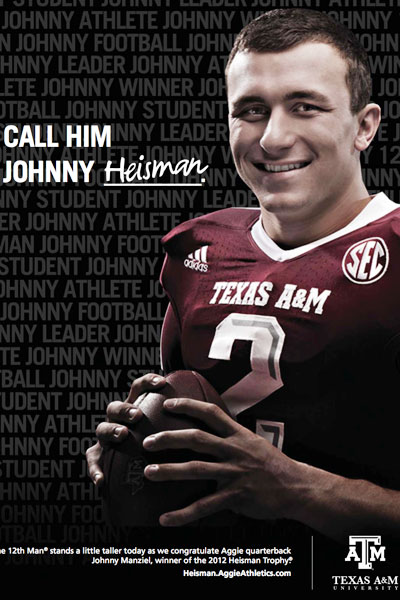 Congratulations Johnny Football…I mean Johnny Heisman.
Subscribe to Rashtrakut by Email